Photo by Isabella and Zsa Fischer on Unsplash


Our team at Connected Realities would like to share some of our wishes for our broader community at the turn of the new year. In these last weeks of 2021, we hope your year-end projects tie up smoothly, and that you and your colleagues take meaningful breaks from your work. Times of transition are a natural moment to reflect. When we pause, we tap into our inner wisdom and knowing presence. Whatever this transition has in store for you and your teams, we hope it is meaningful.
This year has taught us all so much about boundaries— boundaries around our safety, our time, our energy. My wish for everyone is the strength and fortitude to identify, name, and kindly uphold your needs and limits. When we do so we are not only more able to show up whole and centered in our relationships and commitments, but more likely to create and design systems that support everyone.
With this wish comes profound wishes for rest, rejuvenation, and nourishment. And plenty of time in the months ahead to stare at the sky and wonder.
2021 for me was an intense year of seeking and beginning to find cultural belonging; something I've struggled with since I was young.  The gratitude I feel for this new sense of connection and identity is nothing short of profound. 
In this next year, I wish for those who flounder with affiliating or feeling welcome, especially in communities that are tied to their personal identity, to find the strength and vulnerability to look inside themselves, find out who their demons are, and how to nourish them.  Kindness to my shadow side set me on a path of manifesting what I've been aching for since childhood.  I wish for a similar liberation to all who need it.  Aloha nui loa!
Le`alani
My wish is for people to find inner peace, whatever that may be. This is a time of year when families come together. It's also a time of year when differences arise, and we are reminded of our conflicts. I hope that with those reminders comes a gentleness to others, understanding, and acceptance.
I wish that rifts will become mended, arms will open, and hearts will heal.
When I think of inner and outer peace, I'm reminded of something my oldest daughter said to me when she was about 12 years old… "What if the whole world just hugged it out, mom?" That made me pause that a young girl, on the cusp of becoming an adult, had such a beautiful thought. It often makes me wonder… What if?
Of course, I also wish for cashmere and diamonds, but that's because sometimes that outer sparkle ignites my inner shine!
Brooke
I have a wish for people to collectively get better at hearing and understanding each other through conversation and dialogue. We each come to conversation from different places, histories, hopes, fears, and dreams. We are brought to a given moment by things we are trying to build and things we are trying to escape. We arrive with histories of things taken from us and things we fear losing – land, freedom, opportunity, safety, stability, history, and culture. We are motivated by our heartbreaks, traumas, healing journeys, accountability, truth, and acknowledgement. Our actions are driven by the desire to create something, to prevent something, to gain something, or avoid losing something.
In the context of all of that, my wish is that we can come to shared conversation together in our openhearted differences, to hear and better understand each other, to share our stories and hopes and needs, and to find ways to work together and to meet each other's needs.
Joy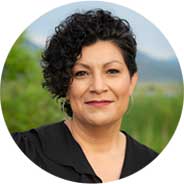 Photo by Osman Rana on Unsplash