Connected Realities combines lived experience, unconventional wisdom, and transformational processes to help teams and communities create collaborative solutions born from a deep understanding of each person's uniqueness and our shared interconnectedness.
Our approach is based on a distinctive combination of academic learning, diverse personal identities, lived experience, and shared commitment to inclusion and equity. We look below the surface of our collective issues to find interconnectedness. From that place of understanding, we help teams and organizations move forward in harmony.
The Connected Realities Team
Leadership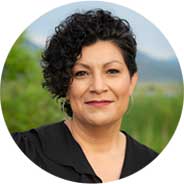 Joy Lujan, MURP
Morrison, CO
Joy is the founder of Connected Realities, LLC. She has more than 20 years of experience as a passionate and effective community planner, including 17 years working with the National Park Service conducting collaborative planning processes with federal, state and local partners. Joy is an accomplished facilitator, group process guide, trainer and collaboration specialist. ​
Le`alani S. Boykin, AICP
Denver, CO
Le`alani (Kanaka `Ōiwi) is a community planner and engagement specialist fascinated with people processes and human potential. She empowers stakeholders and promotes useful input for community planning & design projects, as well as community resource programs through careful process design and facilitation.
Sara Rose Tannenbaum
Denver, CO
Sara Rose Tannenbaum is a Connected Realities Associate with more than 10 years of experience spanning environmental planning, policy, organizing, and management related to a diverse array of natural resources ranging from sustainable forestry to urban creek restoration and community-supported agriculture. ​
Expert Practitioners and Specialists
Brooke Gillespie-Trout
Las Vegas, NV
Brooke has more than 15 years experience as an office administrator, executive assistant, virtual assistant, and customer service professional. She provides ideas, advice, and suggestions on how to grow and manage your business. "I focus on helping you with tasks that free up your time, so your focus can be on building your business." Brooke is also an accomplished blogger and novelist.
MaLisa Martin
Los Angeles, CA
MaLisa practices deep listening and thoughtful engagement as an accomplished planner and facilitator, connecting people and communities to nature and conservation efforts.  In her 20 years of experience with the National Park Service and US Army Corps of Engineers, she has acquired extensive experience with process design, organizational development and strategic planning, and community outreach and engagement.
Cate Bradley, PHD
Silver City, NM
​For more than 30 years, Cate Bradley has cultivated deep interest, training and experience as a steward of groups – facilitating collaborative planning, organizational development and solution building outcomes for public, nonprofit and private sector partners and clients. Cate spent 17 years as a community planner with the National Park Service.​​
Jamie Rasmussen
Fort Collins, CO
Jamie (aka JR) is a community organizer, communications strategist, planner, and engagement specialist. She has more than 12 years of experience in marketing, advertising, and communications for global brands. She is currently pursuing a Master's in Public Policy and Administration at Colorado State University, where she was also a trained facilitator with the Center for Public Deliberation.
Colleen Osborne
Denver, CO
Through personal and leadership coaching, leadership development, facilitation, and her writing, Colleen Osborne serves others in their quest for personal discovery, growth, and having a meaningful impact on the world. She is owner of Osborne Associates Consulting, a business which is devoted to helping humans and purpose-driven organizations achieve their full potential.
Liz Smith-Incer
Biloxi, MS
Elizabeth "Liz" Smith-Incer is a happily employed planner with the National Park Service (NPS) helping communities to connect to one another and reconnect to the natural world around us all. Although her commitment as a public servant is a full-time effort, Liz is also able to share her insight, wisdom and passion in supporting the work the Connected Realities team is doing in the world.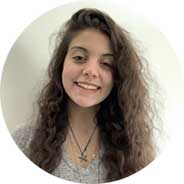 Oskar Alkhateeb
Juffair, BH
Oskar is a college student in Bahrain. Currently she is completing her bachelor's degree in Information Communication Technology, majoring in Database Systems. She has long had a passion for programming, technology and art. She also tutors children from the ages of four to eighteen; as well as children with special needs. Additionally, she is active in helping to host as well as participate in volunteering events throughout the Bahraini community.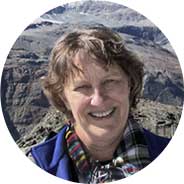 Kathryn Nichols
Manchaca, TX
Kathryn Nichols is a retired planner, facilitator, and community engagement specialist who spent her career focusing on outdoor recreation and natural resource protection. She is currently exploring the balance between retirement and a passion for service to communities and community-based organizations.